Kids Haircut Salons Biography
Source(google.com.pk)
When I moved to Los Angeles and started traveling more, I got a lot of questions about my hair: How do you blow it out? How do you
keep it shiny? How do you maintain its health? What products do you use to keep it thick? This has always been a tough one for me to
answer because I never really had any products or tips to recommend. Hair care was was so woven into my life, I never really paid
close attention to the day to day routine. I have naturally curly, full body hair (that can get unruly if not cared for) so I couldn't just wash
and go. It's been a constant deep-conditioning and daily maintenance activity, a natural part of my life no different than caring for my
skin.
As a child, my hair was either cut short or tied up in a pony tail or braid to cut down on the morning rush before going to school. I had a
lot of hair. As I got older, I wanted to experiment more and fell in love with the way women looked after spending an afternoon at the
Dominican hair salons in my neighborhood. Their hair was luxurious and shiny. Pretty much everything I learned about hair care and
great a blowout came from these family-owned salons, where the time and effort put into your hair was an absolute delight. And if
you're lucky, you may get offered a bit of mofongo while your rollers set. It's like getting your hair done at your favorite aunt's house.
This is where I learned to be thorough and disciplined when it came to my hair. From deep conditioning to a great blowout, here are 5
things I learned from Dominican Hair Salons.
Shampoo: Don't be cheap. My friends joke about the amount of shampoo I use on my hair. Bottles come and go quickly. I make it very
sudsy (not recommended if your hair is dyed) and wash it really, really well. It's never a rush-job.
Conditioning: Take your time. In a Dominican hair salon, you will usually find a conditioner rich with fruit extracts or oils. I've always
used products straight from the salon or from a local beauty supply store. When I apply my conditioner, I comb it through with a wide
tooth comb. I let it sit for about 10-15 minutes. Sometimes I wrap my hair and pass the hair dryer around it (I do not have a hooded
dryer at home) and then rinse. Make sure you rinse well, as you do not want to leave any residue in your hair. The goal is to have deep
conditioned hair that is (literally) squeaky clean.
The blowout: Start from the back and section your way to the front. I don't typically use rollers but I recommend it if your hair is really
curly. It's great way to give your hair extra bounce and shine. You can see the step by step process here.
In between blowouts: Conditioning is a way of life. I've never really had the time (or patience) to incorporate the heat conditioning step
to my hair. For this reason, I just wash/condition/towel dry and add coconut oil. I comb it through (extra on the ends), let it air dry for a
bit and put it up. I do this weekly and usually just wear it this way to work (I wash my hair every 2-3 days). This is a technique I learned
from the Indian and Caribbean women who lived in my community. Coconut oil has a moisture retaining capacity and helps with
styling. I strongly believe it is the reason why my hair has maintained its health and hasn't gotten thinner, considering all of the heating
tools I've used and hair colors I've tried.
Products: To splurge or not to splurge? Right now I'm using the Pibbs Twin Turbo 3200 Ceramic & Ionic Hair Dryer and Morrocon Oil
hair products. Make sure you deep-condition in between blowouts with avocado or coconut oils. Stick to natural ingredients. You don't
need to spend a lot of money to keep your hair conditioned.
If you'd like more product suggestions, here is a great Youtube video with all of those details and here's another one that really
illustrates the technique.
Kids Haircut Salons
Kids Haircut Salons
Kids Haircut Salons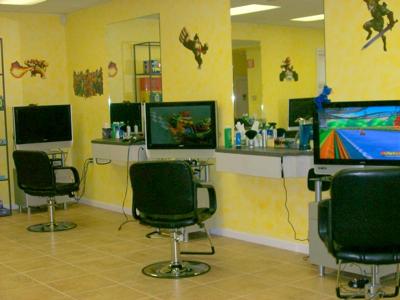 Kids Haircut Salons
Kids Haircut Salons
Kids Haircut Salons
Kids Haircut Salons
Kids Haircut Salons
Kids Haircut Salons
Kids Haircut Salons
Kids Haircut Salons